Queen Pulsating, Bloated, Festering, Sweaty, Pus-filled, Malformed, Slug-For-A-Butt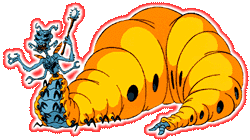 Voiced by: Andrea Martin


Profile by: Mike "Slomoto" Cervantes
The Queen, who's full name is Queen Bloated, Pulsating, Festering, Sweaty, Pus-filled, Malformed Slug-For-A-Butt, was born the true heiress to the Insectikan royal family. Not happy with the limited amount of power given to her from birth, The Queen seized total control of all Insectika, turning it from a peaceful province into a putrid, horror-filled land crater in the middle of the universe. The queen thinks she's done such a good job ruling Insektica, that she plans to rule the entire universe. Because of this desire, she ordered her lackeys to build her a supersuit to heighten her already impressive strength and magic abilities. This eventually became Earthworm Jim's supersuit.
The Queen is a powerful monarch, who's influence not only spans all of Insectika, but some other small parts of the universe. She has both Psy-Crow and Professor Monkey For A Head under her thumb. She also founded the Fraternal Order of Space Villains. She sees Jim's ownership of the suit as only a minor setback, but she's pursued it with greater desire than any of Jim's other villains.
There's not much to the Queen's personality, she's just plain mean. She's always crabby, and the only time you see her smile is when she colorfully threatens people's lives. She's also very vein, and likes to bleach her horns and tweeze her facial hair. And you shouldn't call her fat unless you have a serious death-wish.
Recently, The Queen lost her throne to Psy-Crow. The queen, whose informal name happens to be "Lucy" wound up in Turlawk, where she met Mrs. Bleveridge (Whose informal name is "Ethel"). The two were inseparable until their friendship met a rather unceremonious end once Jim dropped his house on Ethel. (She survived, she just doesn't hang with the queen). These events showed a rather softer, feminine side to the Queen, which kinda vanished as soon as she became queen again.